Trump: 'I will declassify Everything' Obama's warrants, Comey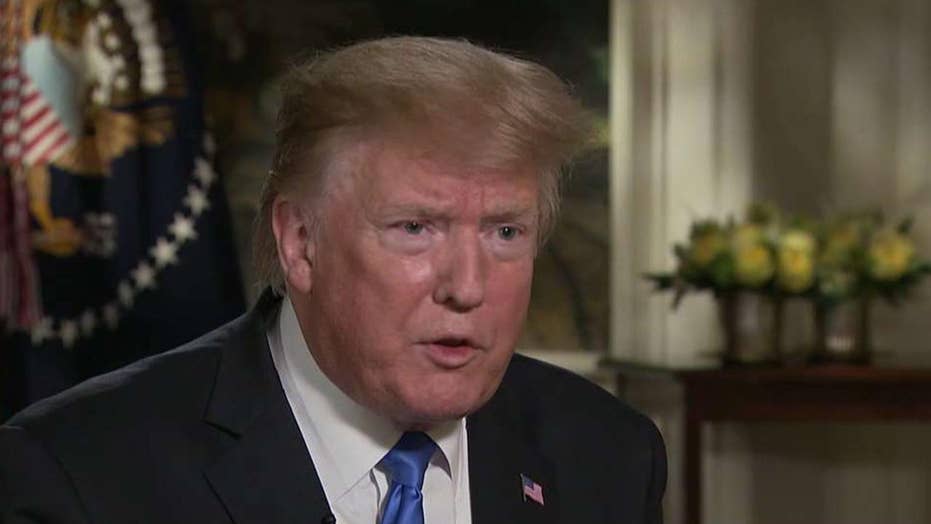 -President Donald Trump said Thursday that he plans to declassify 'everything' related to the Obama administration's campaign-year 'spying' on his campaign
President Trump told Fox News in an exclusive wide-ranging interview Thursday evening that the White House has lost patience with congressional Democrats, and forcefully dismissed their efforts to subpoena former White House counsel Don McGahn and other administration officials to testify.
"They've testified for many hours, all of them. I would say, it's done," Trump told Fox News' Chief Intelligence Correspondent Catherine Herridge. "Nobody has ever done what I've done. I've given total transparency. It's never happened before like this. They shouldn't be looking anymore. It's done."
Attorney General Bill Barr made the right call in deciding not to appear before the House Judiciary Committee on Thursday, Trump said, following his testimony Wednesday in the Senate. House Democrats had insisted that committee counsel, rather than members of Congress, question Barr.
"It's not up to me, it's up to him," Trump said, referring to Barr's decision not to show up. "And they were going to treat him differently than they've treated other people. And of course we've been treated differently to start off with. We've gone through so many investigations, everybody. And it's so ridiculous. No obstruction, no nothing — there's been no nothing. There's been no collusion, there never was, they knew that from day one."
Trump added, in a shot at the total cost of Special Counsel Robert Mueller's Russia probe: "Even my finances, it must have been looked at — for $35 million, I assume they looked at my taxes, I assume Mueller looked at my financial statements. For $35 million, and having 20 people, 49 FBI agents, and all of the staff and all of the money they spent, I assume they looked at my taxes, which are fine — except they are under audit, by the way."
The New York Times reported earlier Thursday that the FBI secretly deployed an informant to London in 2016 to gather information from then-Trump foreign policy aide George Papadopoulos, who told Fox News later that the informant posed as a researcher and tried to "seduce" him.
Former FBI Director James Comey, Trump told Herridge, "probably was one of the people leading the effort on spying" on his campaign. Trump said we "will find out pretty soon" the extent of Comey's involvement.

"They shouldn't be looking anymore. It's done." – POTUS